Breaking The Code
Directed by Paola de Rosa
Feb 10 2016
to
Feb 13 2016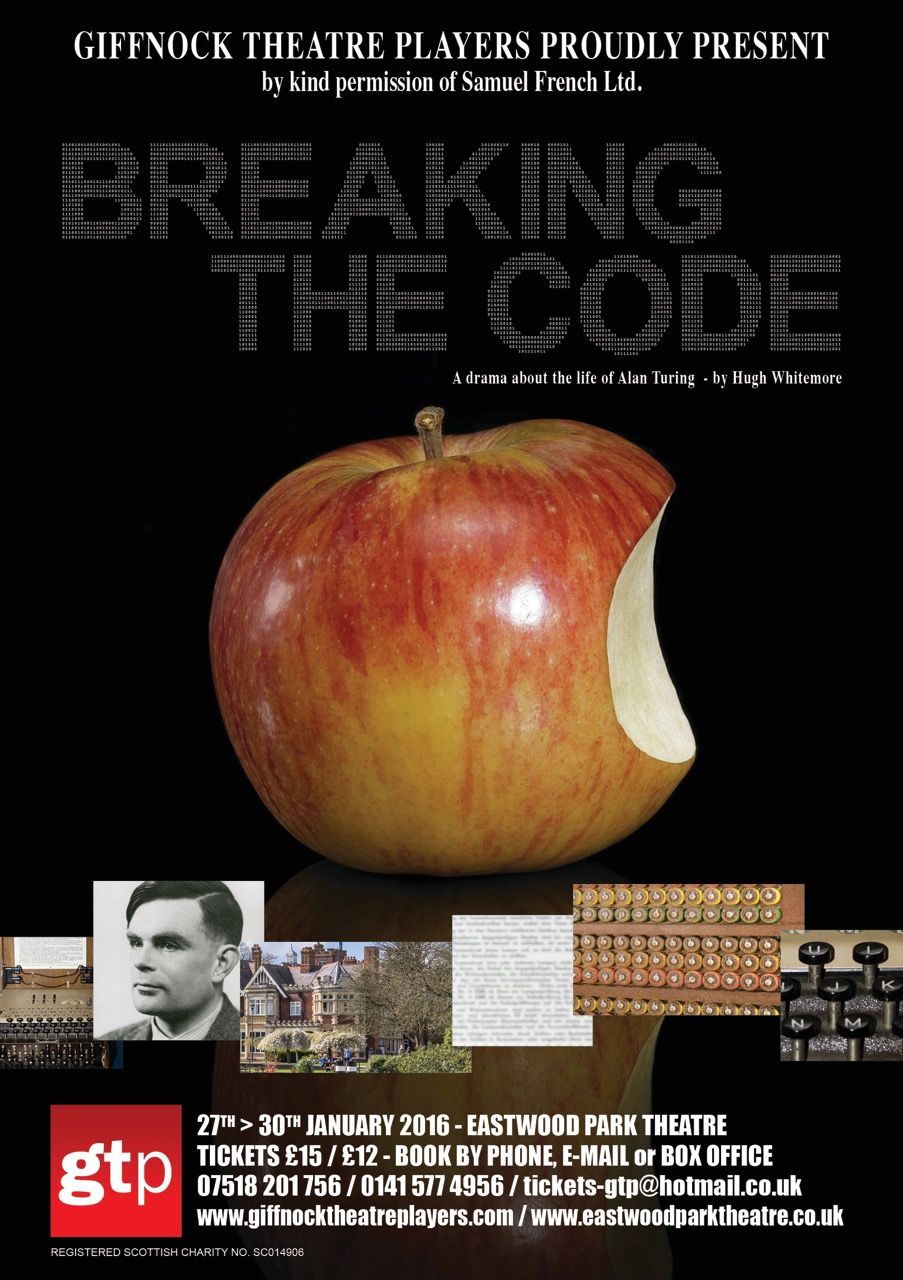 Giffnock Theatre Players proudly presents Hugh Whitemore's "Breaking The Code", a beautiful and thought-provoking drama about mathematical genius Alan Turing, the man widely acknowledged as the father of modern computing.
Turing was largely instrumental in cracking the infamous German 'Enigma' code, arguably enabling the allies to win World War II. But his admittance of his homosexuality in post-war Britain, at a time when homosexuality was illegal, was not problematic for only Turing, but for his family, his colleagues and the State. His life, and this story, entwine intellectual triumph, intrigue and injustice.
The play tells the tragic tale of Turing's troubled and controversial life by focussing on three significant periods – a childhood friendship with another young man, later his work at Bletchley Park and his friendship with his female assistant, and ultimately his arrest and prosecution for homosexuality. In understanding the personal predicaments Turing faced, it is clear that the Nazi code was not the only enigma in Turing's world.
Whitemore's play has received critical acclaim in the past: "It is intelligent, multi-layered in its examination of loyalty and expediency, and full of understated passion. And any play that can make mathematics sexy definitely gets my vote", said Lynn Gardiner of The Guardian.
Giffnock Theatre Players will perform the play at Eastwood Park Theatre in Giffnock from Wednesday 10th to Saturday 13th February 2016 at 7.30pm, with a matinee performance at 2.30pm on Saturday 13th.
Tickets are priced at £15, with an £13 concession ticket available, as well as discounts for group bookings. They can be purchased by phoning 07518 201756 or 0141 577 4956; emailing tickets-gtp@hotmail.co.uk; or from the Eastwood Park Theatre box office at www.eastwoodparktheatre.co.uk/boxoffice.